About Excalibur Las Vegas
Excalibur Las Vegas is a hotel and casino situated on the Strip. MGM Resorts International owns as well as operates the resort. It was named after King Arthur's mythical sword Excalibur and uses the Middle Ages theme in several ways.
The facade of the resort is a stylized castle's image. Until 2007, a figure that looks like a wizard representing Merlin the enchanter looked out from the high turret.
A figure that advertises Dick's Last Resort replaced it. A free tram connects the resort to its sister properties to the south, Mandalay Bay and Luxor.
Circus Circus Enterprises built Excalibur Las Vegas, and it opened officially on June 19, 1990. When it opened, it was the world's largest hotel covering more than seventy acres.
As of 2016, it's the 7th largest hotel in Las Vegas (by the total number of rooms), and the 11th largest hotel in the world. In 2005, MGM Resorts International acquired the property.
The resort was designed in accordance with the "theme resort" approach that was popular among operators of casinos during the nineties, which included the traditional Vegas gaming experience combined with family-oriented elements.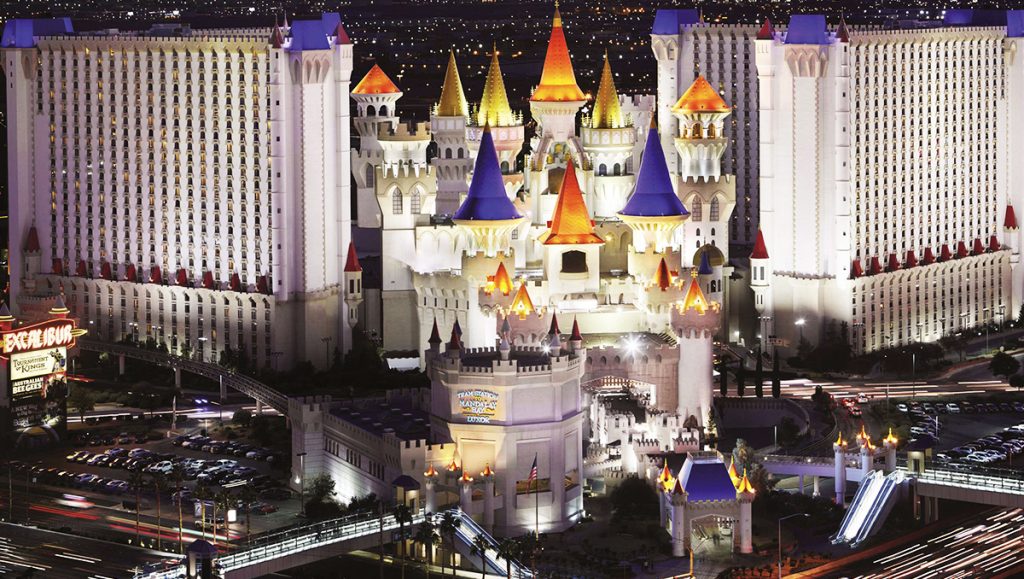 Excalibur Las Vegas Hotel and Casino, Night View
Since 2006, (as part of a 4-year renovation and modernization project), many of the medieval-themed scenery and statues have been removed.
As of 2010, only a few of the themed wall decorations still remained as the resort was updated to include more understated and modern elements, including modern furniture plus flat-screen plasma TVs in a total of 2,000 renovated guest rooms.
Excalibur's medieval theme is unique, even on the Las Vegas Strip where there are numerous other fantastical theme casinos.
You cannot miss the overhead pedestrian bridge across Tropicana Avenue and the candy-colored turrets. Inside the legend of King Arthur legends continues with heraldic crests, stone towers, and stained glass.
Location
Excalibur Las Vegas Hotel Rooms
There are 4,000 guest rooms and suites inside the Excalibur Las Vegas hotel towers. The average nightly rate for this hotel is lower when compared to its competitors.
The rooms are finely updated, with shades of blue, gray, and brown plus nice hotel furniture. There are some rooms that offer Strip views.
Granite bathrooms have walk-in showers that have been enclosed with glass.
The 1,034-square-foot Royal Two Bedroom Luxury Suite has a separate space to entertain. The living room features a 4-inch flat screen TV, a sitting area, plus a work-table station.
The living room of the 682-square-foot Resort Luxury Suite is set off by luxurious crown molding and features a coffee table, love seat, individual work-table station, and a 42-inch flat screen TV.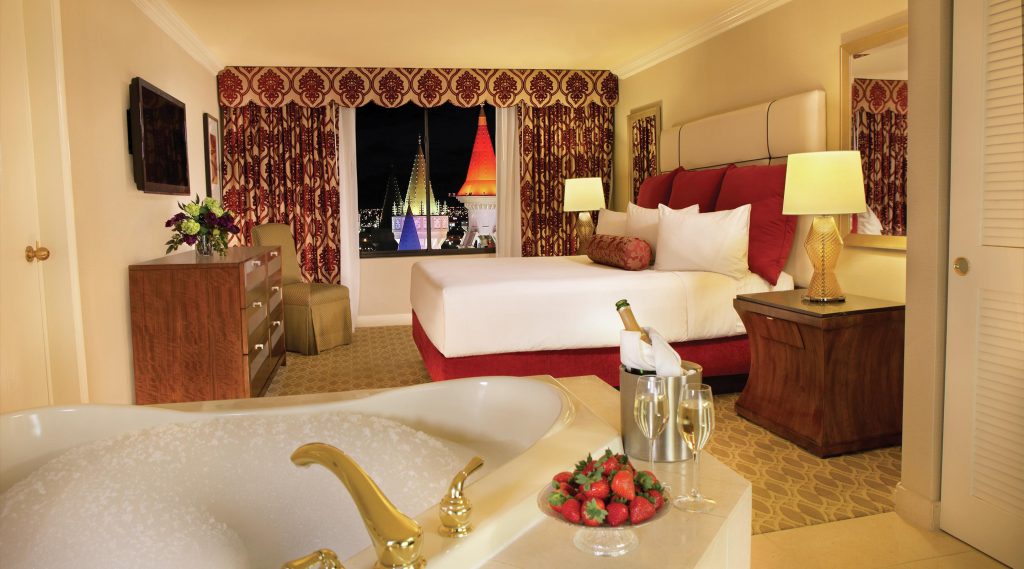 Excalibur Las Vegas Hotel, Standard Rooms
Excalibur Las Vegas Spa and Fitness Centre
To enter the 13,000 square foot spa, hotel guests have to pay 10 dollars during the week and 15 dollars on Fridays and Sundays.
For non-hotel guests who would like to use the spa and fitness center at Excalibur Las Vegas, they have to pay 25 dollars.
Services include waxing, nail treatment, body treatments plus body wraps, facials, massages, and other enhancements.
There are various packages available; discounts are offered to military members and Nevada locals for services of 50 minutes and above.
Both the spa and fitness center at Excalibur Las Vegas overlooks the pool. The fitness center is open 24/7 to hotel guests and the spa is open from 6 a.m. to 8 p.m.
Entertainment
If you are looking for an out-of-the-ordinary event or meeting experience, Excalibur Las Vegas offers the ultimate Vegas Business Center.
The resort's full-service catering staff helps people plan all types of special event, including small meetings and grand galas.
Excalibur Las Vegas has a 12,000 square foot meeting space, with 9 meeting rooms, which can hold 1,072 people. Exhibit Space is 12,200 square feet and the largest meeting capacity at the resort is 1,222 people.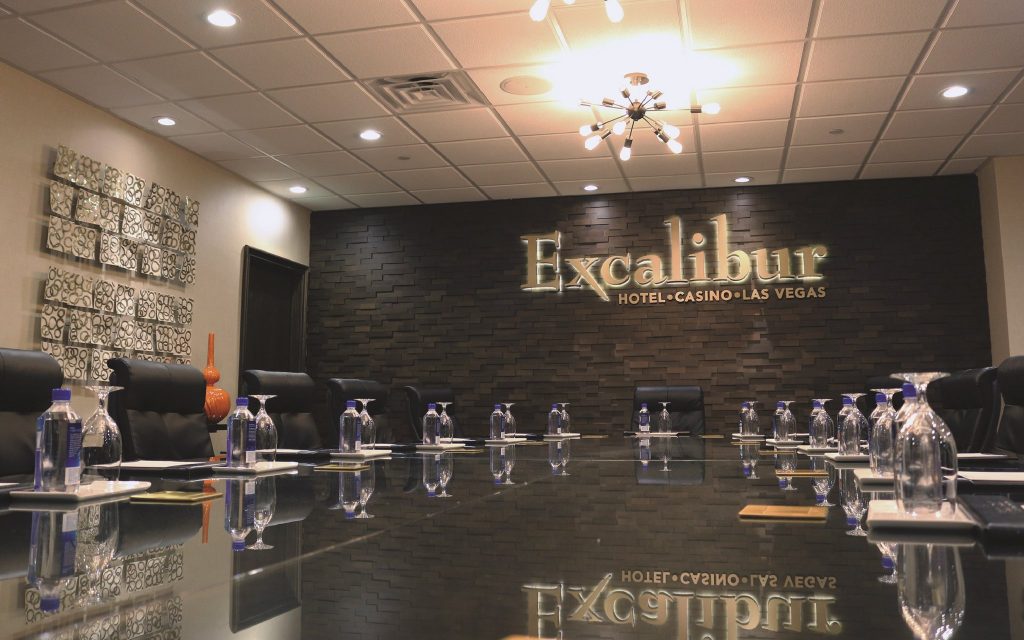 Excalibur Las Vegas, One of the meeting rooms within
Nightclubs, Bars, and Lounges
Those looking for a place where they can drink have several selections. The Lobby bar is open 24 hours, and it's the perfect place for guests who want to unwind from their travels and start their stay at the Excalibur Las Vegas.
For those who love karaoke, the can head over to the Lounge on Thursdays and Sundays from 9 p.m. to 1 p.m. Also, there is live entertainment on Fridays and Saturdays from 6:30 p.m. to 8:30 p.m. and from 9 p.m. to 1 p.m.
The Sports Book Bar is located right next to the race and sports book and offers additional huge flat screen TVs for guests to watch major sporting events as they enjoy drink specials plus offers on shots, whiskey, cocktails, and beer.
You can also go to Sherwood Bar to play a hand of your favorite video poker while enjoying your favorite drink served by friendly bartenders.
In June 2007, Dick's Last Resort (a fun restaurant and bar) opened at Excalibur Las Vegas. Dick's offers a darling unique experience on the Strip and its known for deliciously messy cuisine, rowdy and unpredictable service, live bands, oddly entertaining décor, and let-loose atmosphere. It offers a relaxed, down-to-earth entertainment alternative for guests.
Shops and Boutiques
If you want to go back home with Las Vegas souvenirs, Excalibur Las Vegas has many options when it comes to shops.
You can buy gifts, handbags, accessories, jewelry, clothing, shoes, beverages, snacks, and more.
These shops include Welcome to Las Vegas Shop, Tattoo Corner, Souvenir Central, Soap Store, Pearl Factory, Marshall Rousso, Magnet Max, Lids, Lick, Kids Cottage, Essentials, Dragon's Lair, Cosmic Groove, City Life, Below The Knee, and 24/7.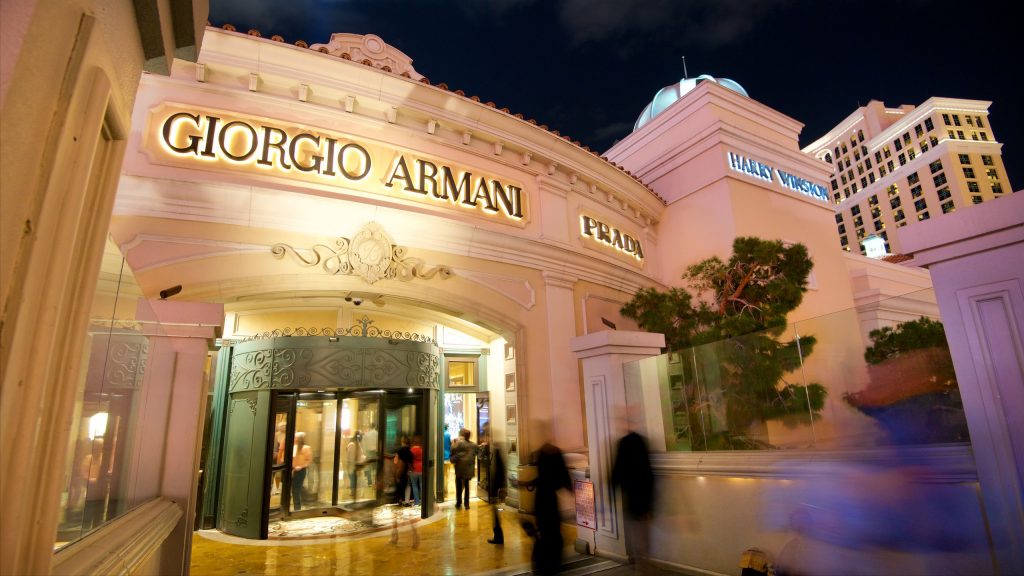 Excalibur Las Vegas, Shopping, Giorgio Armani and Prada
Shows
Excalibur Las Vegas is home to 3 permanent shows: Tournament of Kings, a medieval-themed dinner show; The Australian Bee Gees Show, which is a tribute to the pop music group Bee Gees; and Thunder From Down Under, an all-male revue.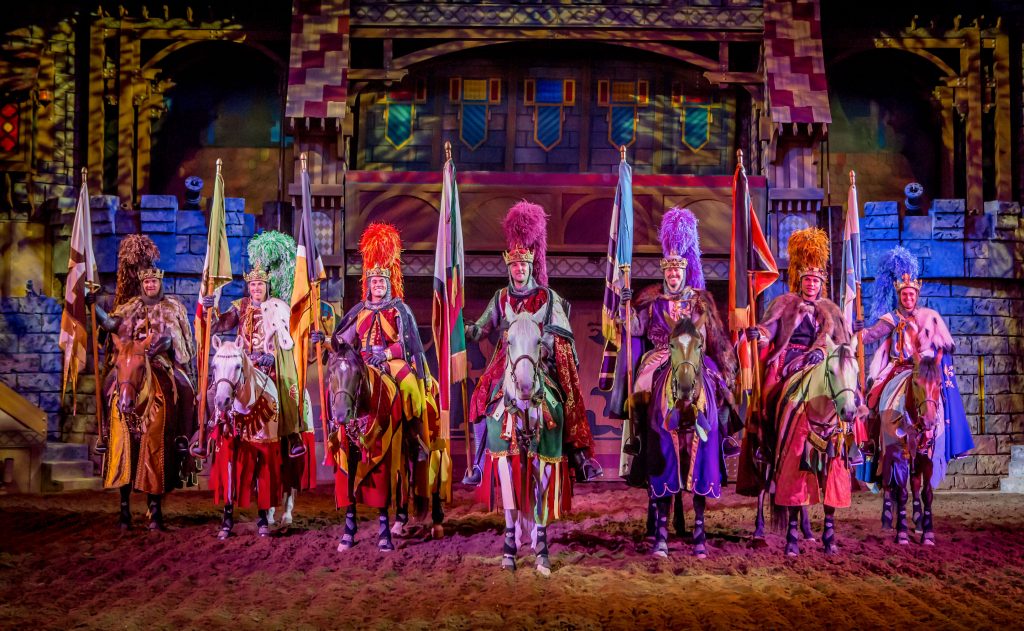 Excalibur Las Vegas, Shows, Tournament of kings: Medieval Themed
In July 2001, Thunder From Down Under relocated to Excalibur Las Vegas; since then, the show has received recognition as being among the city's best all-male strip shows.
The name of the performance space was changed to Thunder From Down Under Showroom in 2006 in honor of the group.
Tournament of Kings is an entertaining medieval jousting tournament that's performed with 32 cast members and twelve breeds of horses in King Arthur's Arena, a 925-seat amphitheater.
Tournament of Kings includes a banquet feast that's served by a costumed wrench or serf, and it's meant to be eaten with no utensils.
The show debuted along with Excalibur's inauguration in 1990. You can access the amphitheater from the fun dungeon arcade, which includes a laser tag arena as well.
Gambling
The 100,000 sq.ft. casino gaming floor at Excalibur Las Vegas casino offers a great selection of different table games. Excalibur casino also has race and sportsbooks plus a wide variety of slot games.
Roulette
Excalibur Las Vegas casino has 5 and 10-dollar roulette tables with two zeros. There is also a 3-dollar roulette table at the slot section. It has an actual wheel and a different setup, which makes guests have a different great experience.
Blackjack
Blackjack is one of the popular table games at Excalibur. There are lots of blackjack tables with a payout of 6-5, except for several tables where minimums start from 15 dollars.
These tables pay 3-2 and the dealer has to hit on all soft 17s for all the games.For those looking for other variations of blackjack, there are 3 additional games: Zappit, Blackjack Switch, and Free Bet.
Also, out by the slot section you will find a virtual blackjack game with a one-dollar minimum and a live dealer.
Craps
The craps games at Excalibur Las Vegas casino have a 10-dollar minimum with 3-4-5 odds. Virtual craps is available at the slots area with a 1-dollar minimum.
Slots at Excalibur
Whether you're looking for the hottest or your favorite classic games, Excalibur Las Vegas casino has hundreds of slots spread all around the gaming floor.
Some of the unique slot selections include the Hangover II, Jurassic Park, Casablanca, and Anchorman.
Other popular selections are numerous variations of Buffalo, Breaking Bad, Wheel of Fortune, Game of Thrones, and Willy Wonka.
Limits start at one penny, moving up to 0.02, 0.05, 0.25, and 1 dollar. Also, Excalibur Las Vegas casino hosts a wide variety of slot tournaments every month.
At the high limit area, you can wager up to 100 dollars per pull, which will add to your exciting entertainment adventure; normal high limits start at 5, 10, and 25 dollars.
There are some video poker machines that accept 0.25, 1, and 5 bets. Josh Ford of the Citi of Los Angeles was the winner of the largest Megabucks Jackpot on March 21, 2003, at Excalibur Las Vegas casino. He won 39.7 million dollars.
Other Table Games at Excalibur
Crazy 4 Poker (5 dollars minimum)
Texas Hold'em (5 dollars minimum)
High Card Flush (5 dollars minimum)
Let It Ride (5 dollars minimum)
Three Card Poker (5 dollars minimum)
Poker Room
The 14-table poker room is located adjacent to the sportsbook. Excalibur Las Vegas casino offers Omaha Hi/Lo, 1-2 No Limit Hold'em, and 2-6 Spread Limit Texas Hold'em.
No limit and spread games spread always come together. Lessons are given daily at 12 p.m. and the room also provides daily tournaments four times per day.
The buy-in at 9 p.m. is 40 dollars, while the 1 p.m., 5 p.m., and 8 p.m. events cost 45 dollars.
Chip stacks start at 5,000 with 1 reentry and blinds increase after every 15 minutes.
Tables and chairs in the poker room are in good shape and there are automatic shufflers on the poker tables.
There is a 500-dollar Royal Flush bonus where both cards have to play.
Also, on Monday through Friday from 10 a.m. to 3 p.m. there is an"aces cracked" bonus given out, plus you get the chance of spinning the big wheel for an additional bonus of 20 to 100 dollars when you're dealt quads aces or better or when you get cracked whether you are playing one or two hole card.
Video Poker
Guests can also play video poker at Excalibur Las Vegas casino. Jacks or Better has limits of 0.25, 0.50, and 1 dollar. You can also find several video poker machines at the bars.
Sportsbook, Racebook plus Keno Lounge
The sportsbook is built more vertically, instead of horizontally like most sportsbooks. The design allows you to have a solid and clear view of everything, which includes the betting board.
The sportsbook has several dozen leather chairs, plenty of TVs with great picture quality, additional high tables plus chairs, and you are only allowed to smoke at the back of the sportsbook.
Also, Keno is included, and the racebook seating has its own TV and a desk. Pari-mutuel wagers are always taken on racetracks countrywide, and they are available for viewing on your individual monitor, in addition to the wall-mounted screens.
The sportsbook at Excalibur offers wagering on every major professional and collegiate sport. The resort is your home for soccer:
They offer odds on UEFA Champions League and Barclay's Premier League as well as future odds on World Cup and the Premiership.
When it comes to professional and college football, they offer weekly odds and seven varieties of parlay and teaser cards. Championship futures odds are always available year round.
Restaurants
Excalibur Las Vegas has a number of restaurants where guests can enjoy a nice meal, from steakhouses and fast food, the resort has a flavor for every palate at an inexpensive price.
The food court at Excalibur Las Vegas housed one of the world's few McDonald's to sell Pepsi instead of Coke until it was closed in early 2016. Dick's Last Resort, which is known for its bawdy servers, serves crowds of gamblers and partiers until late at night with wings, burgers, and "hangover specials" such as eggs and steak with a biscuit at $16.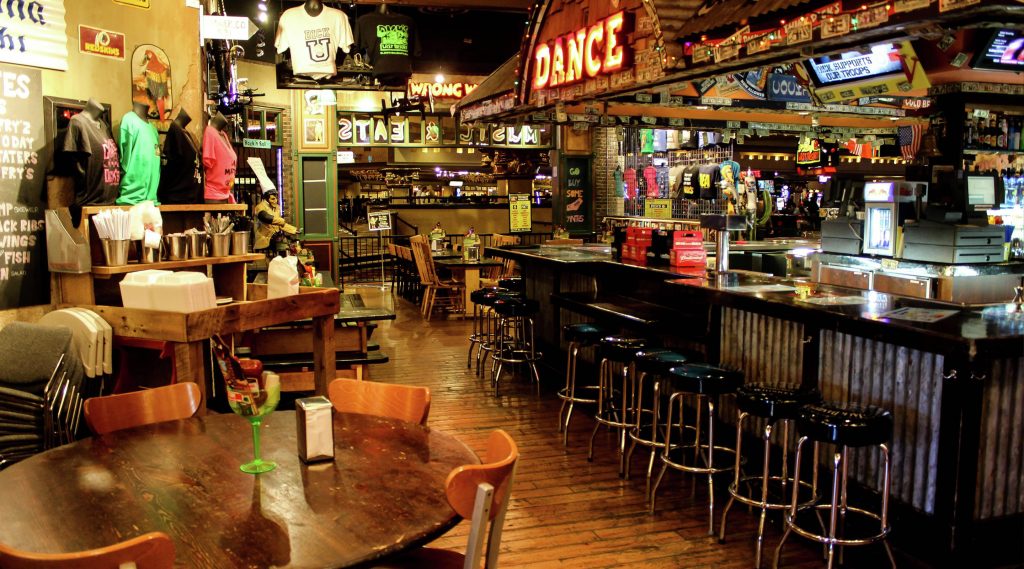 Excalibur Las Vegas, Restaurants, Dick's Last Resort
The buffet and 24-hour food court are all options for guests who are looking for a place to eat.
Additionally, there is the 24-hour Johnny Rocket, Baja Fresh for Mexican, Buca Di Peppo for those who love Italian, plus the Drenched Bar & Grill sits right next to the pool.
Guests looking for dessert or coffee, there is Castle Coffee and Orange Julius and Dairy Queen, where they can enjoy ice cream plus other frozen delights.
Conclusion
Bargain rates bring crowds of people and families to this medieval-themed, long-time veteran of Vegas.
Handy transit connections definitely make the location very convenient. Excalibur hotel and casino is undoubtedly one of the best places located on the Las Vegas Strip for shopping, restaurants, nightlife, and gambling.