In both the United States and across the world there are countless stories of professional athletes crossing the line when it comes to sports betting. Whether it be as serious as players fixing matches or as innocuous as players spending too much time at casinos, these stories persist. 2023 has been no exception and the latest story comes from the English Premier League, thanks to an Italian player by the name of Sandro Tonali.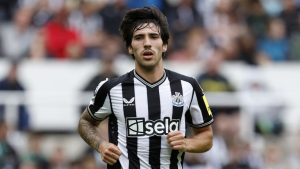 Italian investigators allege that Tonali—as well as fellow countryman Nicolo Zaniolo who also plays in England—have participated in illegal betting on football (soccer) matches. The pair of players were questioned by police on October 12th. On October 17th, Tonali's agent released a statement claiming that his client was battling a gambling "illness." Both players have been away from their clubs and national teams and are, according to lawyers, fully cooperating with the investigation.
A Big Signing with Big Problems
Newcastle United has historically been one of the biggest teams in the English Premier League, a league regarded by many as the best in the world. Until recently however, Newcastle was only a shadow of its former self and was rarely vying for title contention and more often fighting to avoid relegation to the lower leagues. Thanks to an influx of money from new owners Newcastle has surged forward and, on the back of finishing in the top 4 of the English Premier League last season, spent hundreds of millions on new signings. One of those signings was an Italian named Sandro Tonali.
Barely two months into the season, Newcastle has already been forced to make announcements about their new star signing cooperating with authorities. While the allegations alone are enough to scare supporters, the potential fallout is even more terrifying because a potential ban from international and club football may be looming.
What are the Allegations?
The allegations facing both Tonali and Zaniolo have nothing to do with match-fixing or anything like that, but rather illegal online sports betting. In Italy, online sports betting is both permitted and regulated by government authorities, so it is entirely legal for people to place sports bets through licensed, regulated bookmakers. People run into issues when they begin using illegal sportsbooks to place bets, and that is exactly what authorities say Tonali and Zaniolo did.
These players would be facing potential punishments if all they did was use illegal sites to place wagers, but they are now facing even more punishment given that they are said to have bet on football matches. Most professional soccer players are not allowed to bet on sports but are especially not allowed to bet on soccer matches because of the glaring conflict of interest present. Another Italian, Nicolo Fagioli recently plead guilty to betting on soccer matches and was handed a 7 month ban from pro soccer. Fagioli told authorities that it was Tonali who introduced him to the betting site(s), and so the future outlook does not look like a bright one for the Newcastle signing.
The investigation is still ongoing and Italian authorities have not done much in the way of divulging the details everyone wants to hear, but the expectation is that Tonali will reach a plea deal within the coming weeks. There is relative certainty that he will face some sort of ban from professional soccer, but the thought is that by cooperating with the investigation he will receive a ban that allows him to get back on the pitch sometime in the near future.