As far as sports betting in the northeast US is concerned, Maryland is a relative newcomer with only a few years of sports betting under its belt. In terms of online sports betting Maryland's track record is even shorter. Despite being new to the industry, Maryland has quickly broadened the reach of sports betting in the state and has most recently opened up an in-person retail location that is unlike anything else in the DMV (DC, Maryland, Virginia) area.
A Star-Studded Opening Event Thanks to FanDuel
At the beginning of this past September, the town of Bethesda, Maryland was abuzz with hype and activity surrounding the opening of Sport & Social Bethesda, a sports bar that had just been given a sports betting license. Sport & Social Bethesda is owned by The Cordish Companies and chose to partner with FanDuel to bring in-person sports betting to the venue.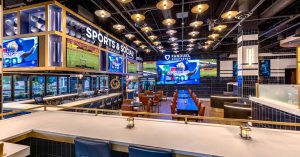 The venue was opened on the first day of the NFL season, September 7th amid much fanfare. In addition to executives from both The Cordish Companies and FanDuel, guests were able to mingle with former Washington Redskins players like Brian Mitchell, Santana Moss, and Dexter Manley. In fact, Brian Mitchell played the role of MC for the evening, awarding giveaway prizes to guests and generally keeping the party atmosphere alive.
A New Betting Destination for Marylanders
Sports & Social Bethesda is an interesting type of facility that really does not exist in most of the rest of Maryland nor other neighboring states. Rather than being a sportsbook within a casino like you might find at nearby MGM National Harbor in Oxon Hill, Maryland, Sports & Social Bethesda seems more like a "night out" destination that also happens to be equipped with in-person sports betting kiosks. In addition, one of the establishment's walls is entirely covered by screens of various sizes showing every major (and some more obscure) sporting event. For the person who may not want to deal with the casino crowds, but also wants a place to make bets and watch the games Sports & Social Bethesda is perfect.
In total, the space is over 8,000 square feet and will play host to concerts and other events in addition to serving as a sports bar. The main viewing screen is bigger than anything you will find at another sports bar and is innovative in that it can show one single game, or a plethora of different events simultaneously.
Something that does not get talked about enough is just how rapidly Maryland has expanded its sports betting footprint. In-person sports betting came first in December of 2021, but it was not until almost a year later until mobile sports betting sites began going live. Nearby Pennsylvania has had mobile and in-person sports betting for significantly longer and are soon going to boast fewer sports betting operators than Maryland. While this does not necessarily mean one state is superior to the other for bettors, it shows you plainly that Maryland is not wasting any time.