Shane Pinto is an NHL player for the Ottawa Senators who, just this week, went from relatively unknown in the NHL to being featured in every major headline, albeit not for good reasons. The 22-year old Center was suspended by the National Hockey League for 41 games on Thursday, reportedly for "activities relating to sports wagering."
There are still few details known about the particulars regarding what Pinto did, but we do know that the player is not going to appeal the decision. In a statement, Pinto said, "I want to apologize to the National Hockey League, the Ottawa Senators, my teammates, the fans and city of Ottawa and most importantly my family. I take full responsibility for my actions and look forward to getting back on the ice with my team."
What Do We Know So Far?
As was mentioned above, there are almost no details known about what Pinto bet on, how much he was wagering, and perhaps most importantly whether or not he was wagering on games in which he took part. Pinto not appealing the 41-game suspension was less a product of him admitting guilt and more a part of the deal worked out between the player, the Player's Association, and the league.
Despite the charges and suspension, Ottawa coach DJ Smith explained to reporters that the entire organization was eager to get Pinto back and to provide him with any support he might need in the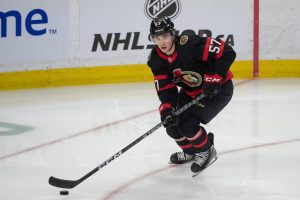 interim. When Pinto's suspension is concluded, he will be joining back up with the team right around the middle of the season. That is, if he is signed. Currently, Pinto is the last player in the NHL to be labeled and unrestricted free agent; something that did not make much sense to a lot of people until the news of his suspension broke on Thursday.
In addition to releasing Shane Pinto's statement, the Ottawa Senators organization released a statement of their own. It read, "Shane is a valued member of our hockey club; an engaging, intelligent young man who made poor decisions that have resulted in a suspension by the National Hockey League. We know he is remorseful for his mistakes. The Ottawa Senators fully support the NHL's rules on gambling. While saddened to learn of this issue, the entire organization remains committed to Shane and will work together to do what is necessary to help provide the support to allow him to address his issues and become a strong contributor to our community."
Though Shane Pinto is not the first professional athlete in North America to be charged with gambling-related offenses since online sports betting was made legal by the Supreme Court, he is the first player in the NHL to be caught up in something like this. The NFL has already seen more than ten players suspended for gambling, and while Major League Baseball and the National Basketball Association have not made any such allegations, there are concerns that the time will soon come. How to combat these types of issues is something that is on the forefront of every major sporting league in North America, and handing down massive punishments like the one given to Pinto seems to be the number one weapon used by the leagues for the time being.